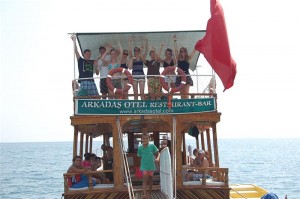 Other services and activities for you to have a pleasant and memorable summer holiday at Arkadaş Hotel are the boat tours that will help you to meet the blue. These tours are organized with the hotel's boats and lets you have a delightful experience from morning to evening.
These boat tours are an opportunity not to miss in order to see the hidden natural wonders of Adrasan and you have two options fort hem. The first of the boats moving from the Adrasan coast steers its Wheel towards the Fenike wreck. Our boat coming to the Gelidonya Cape near the Fenike wreck and to the Beş adalar bay shows you the mystery of Suluada. The small Suluada that attracts the visitors with its adorableness has a spring that has water in every season. After discovering the mystery of this small island and travelling for about 1 hour's distance, you see a wonderful turguoise beach that is a wonder of nature. Enjoying the sea, the sand and the sun at such a beautiful place will add a different atmosphere to your holiday. After these joyful hours, you ster towards the Kelleci bay, right opposite the Suluada. The attraction of this bay comes from the water sources floating from the rocks. You can just let yourself dive into the sea from the source of the water and get a fresh body and feel rejuvenated. We should remind you that this bath is the last enjoyable pleasure of your boat tour. Your return trip from this joyful day in blue and gren starts this way.
At the second option of the boat tour you are awaited by the Sazak, Porto and Ceneviz bays. You start this tour by meeting the sea. After you get a flavor of the relaxing feeling of the blue, you continue your trip from where you stopped. After a short while you see a magnificent cave. The significant thing about this cave is that it gives you a passage from underwater. Those who want to discover the serce tof the cave can see this place with a brief dive. You will start a journey of 40 minutes, leaving the cave behind. At the end of the trip, you reach Sazak bay, or Balayı Bay with its other name. Here you get a different flavor of the sea and then you ster towards the "Porto Ceneviz"Bay opposite the peninsula. Following the long swimming and lunch breaks you end this tour.