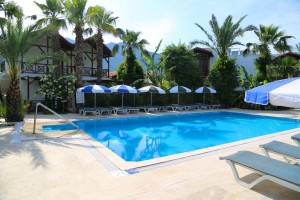 Arkadaş Hotel is one of the rare boutique hotels, which has been constructed on an area of 9000 m2 and where all necessary services are offered for you to have a pleasant holiday.
Arkadaş Hotel first started to host its quests in 1989 in Adrasan as a guest house and it has not lost its feature of being in the nature and offering a holiday to its guests to find peace in nature. The symbols of this small and pretty boutique hotel, where you can feel the warmth of a family, are the numerous fruit trees and plants. Do not believe that you have had a nice holiday without sitting in the shade of these trees and relaxing your soul with the breeze coming from the sea.
At Arkadaş Hotel in Adrasan with fertile land the catering services are provided with the organic vegetables and fruits grown in the hotel garden. The hotel has also full scores with its aspect of being an animal lover, there are many animals in its garden such as ducks, geese, turkeys and others.